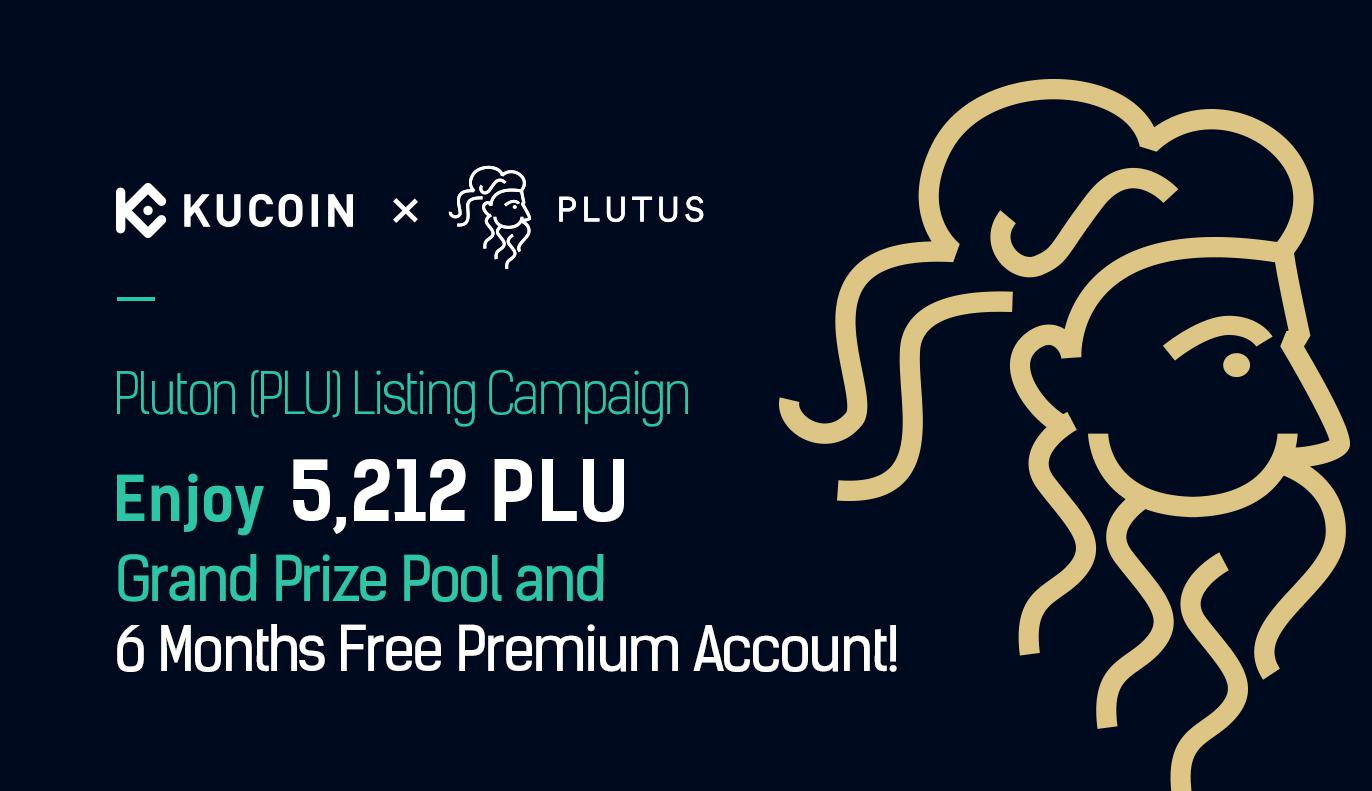 To celebrate Pluton (PLU) being listed on KuCoin, we will be launching a listing campaign together with the Plutus project to give away a reward pool of 5,212 PLU to qualified KuCoin users.
Learn more about Pluton (PLU): https://plutus.it/
The campaign will run from 18:00:00 on December 18, 2020 to 18:00:00 on December 25, 2020 (UTC+8).
---
Activity 1: Net Buying Competition, Share a 3,212 PLU Prize Pool! Earn Up To 300 PLU (About $2,000)!
During the campaign, the top 100 traders with the highest net buying volume of PLU (buys - sells - withdraws) on KuCoin will win a share of 3,212 PLU (approximately $20,000) in rewards!
| | |
| --- | --- |
| Top 1 | 300 PLU (approximately $2,000) |
| Top 2-3 | 188 PLU Each |
| Top 4-25 | 88 PLU Each |
| Top 26-100 | 8 PLU Each |
---
Activity 2: Participation Rewards - Trade to Earn 2 PLU!
During the campaign period, a pool of 1,000 PLU will be evenly split between all qualified traders. The first 500 users who meet the two requirements below will be considered as qualified traders, and will each receive 2 PLU as a reward:
Have a PLU trading volume (buys + sells) of 20 PLU or more over the course of the competition period.
Add the PLU/USDT trading pair into the Favorite List.
---
Activity 3: Learn & Earn! Win 2 PLU and a Free Premium Account for 6 Months!
During the campaign, you will be able to earn a 2 PLU reward (approximately 12 USDT) if you are one of the first 500 participants to finish the following requests:
Read the article carefully to familiarize yourself with Plutus;
Complete the questionnaire, and answer all the questions correctly (you can try it as many times as you want to earn the prize).
Optional Bonus for UK & EEA Traders Only:
Once the questionnaire is completed, you can easily join in with a 6-month free premium account if you:
Complete the typeform provided by Plutus and give your consent to allow us to send you the new premium account details;
Have passed KYC2 and identified as an UK or EEA resident to qualify for a Plutus premium account (click here to see the detailed country list which are qualified for this activity)
* All the qualifiers (only new accounts) will receive the 6-month free Premium subscription on January 24, 2021.
Note:
Net buying volume: buys - sells - withdraws volume;
Trading volume: buys + sells volume;
The Sub-Accounts and Master Account will be treated as the same account when participating in the activity;
Winners of the Top 100 Traders (Activity 1) will not be eligible to receive the Participation Reward (Activity 2);
KuCoin will update the Top 25 rankings of Activity 1 before 21:00 on December 23, 2020 (UTC+8). The final rankings will be updated within 5 working days of the campaign ending;
Rewards will be distributed within 7 working days of the campaign ending;
The trading activity on the platform will undergo rigorous inspection during the activity. For any malicious acts conducted during the period, including malicious transaction manipulations, illegal bulk registration of accounts, self-dealing, etc., the platform will cancel the qualification of the participants. KuCoin reserves all rights to exercise at its sole discretion to define if the transaction behavior is counted as cheating behavior and determine whether to cancel the participation qualification of a user. The final decision made by KuCoin is with legal binding force to all participants who participated in the competition. Users hereby confirm that their registration and use of KuCoin is voluntary and is not forced, interfered with, or influenced by KuCoin in any way.
PLU Net Buying Competition Top 25
18:00:00 December 18 - 00:00:00 December 23 (UTC+8)
| | | |
| --- | --- | --- |
| Rank | Email / Phone | Amount |
| 1 | kyr***.com | 1,245.9 |
| 2 | mai***.com | 1,027.3 |
| 3 | bes***.com | 996.2 |
| 4 | che***.com | 932.6 |
| 5 | bai***.com | 784.1 |
| 6 | met***.uk | 733.8 |
| 7 | sas***.net | 725.0 |
| 8 | ade***.com | 668.0 |
| 9 | 254***.com | 574.5 |
| 10 | wan***.com | 482.3 |
| 11 | hoa***.com | 410.4 |
| 12 | rus***.com | 385.0 |
| 13 | 370***.com | 361.3 |
| 14 | kes***.com | 332.7 |
| 15 | 604*** | 324.3 |
| 16 | rab***.com | 305.3 |
| 17 | sou***.com | 277.4 |
| 18 | rig***.com | 235.9 |
| 19 | ran***.uk | 225.2 |
| 20 | mar***.uk | 200.9 |
| 21 | 175*** | 173.4 |
| 22 | fas***.com | 170.2 |
| 23 | wil***.de | 154.2 |
| 24 | rgi***.com | 152.7 |
| 25 | irl***.com | 126.4 |