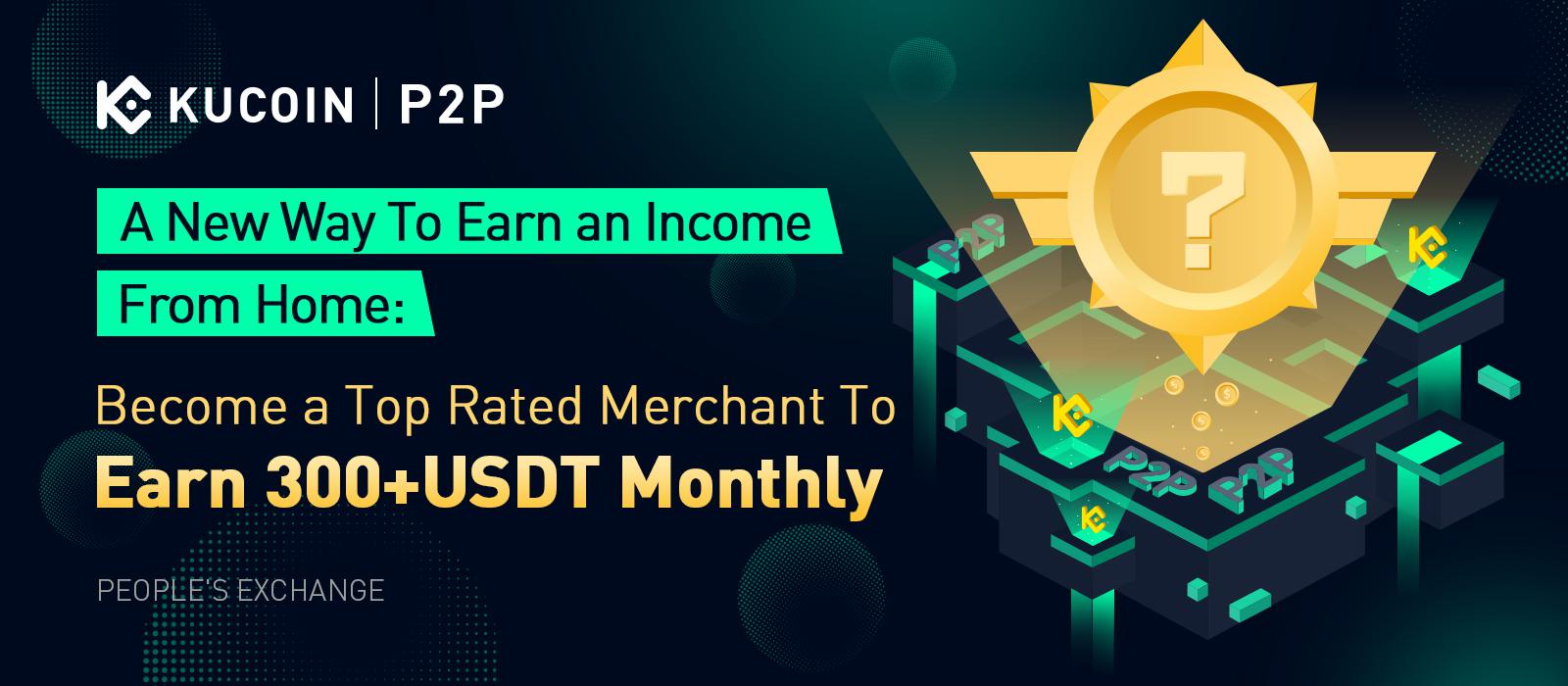 Click to Sign Up: https://forms.gle/tU9B88BLM4PWkti47
I. What is a Top Rated Merchant?
KuCoin will evaluate P2P Merchants on a monthly basis in terms of the crypto unit price, quantity, close rate, crypto release time, etc. The Top Rated Merchant will be selected based on these criteria and certified by KuCoin as providing quality P2P service for users.
II. Rewards for the Top Rated Merchants
A. Exclusive Benefits:
1. Exclusive Golden icon
2. Monthly income and performance rewards
3. VIP Level 1~3 in KuCoin Spot and Futures trading
4. 24/7 VIP Support Service on P2P trading
5. Commission from user campaign promotions (the rewards depend on the type of user campaign)
B. Income Structure
| | | | |
| --- | --- | --- | --- |
| Level of Top Rated Merchants | Rewards/month | Performance Rewards/month | VIP Level in KuCoin Spot and Futures trading |
| Prime | 100 USDT | Number of P2P users they trade with *10% USDT | LV1 |
| Superior | 150 USDT | Number of P2P users they trade with *15% USDT | LV2 |
| Golden Star | 300 USDT | Number of P2P users they trade with *20% USDT | LV3 |
*KuCoin will distribute the rewards to the qualified merchants' KuCoin Main account every month.
III. How to Become a Top Rated Merchant and Earn the Rewards?
There are three types of Top Rated Merchants in different levels according to their performance.
Rules:
Level of Top Rated Merchants

Completed orders/month

Completed users/month

Completion rate/month

Completion volume (USDT)




/month

Prime

X>

150

X>

100

X>

60%

X>

10,000 USDT

Superior

X>

500

X>

400

X>

70%

X>

30,000 USDT

Golden Star

X>

1,500

X>

1,000

X>

85%

X>

100,000 USDT
*Top rated merchants who have multiple disputed orders and don't respond to customer support will be disqualified.
IV. Promotion Mechanism
Please refer to the link to learn more details
https://www.kucoin.com/news/promotion-mechanism-to-top-rated-merchant
LV1. Prime
LV2.Superior
LV3.Golden Star
Note:
1. The CNY P2P market is not included in this activity.
2. There are 10 spots for each fiat market, and merchants who are the most user-friendly will take the priority.
3. This is a long-term incentive activity where the standard will remain the same until the end of the year and may be adjusted for 2022.
4. Users who trade in the P2P market will be counted once as a completed user monthly.
5. The KuCoin Golden Merchant has been replaced with Top Rated Merchant and correspondingly will follow the criteria of Top Rated Merchant.
6. The activity on the platform will undergo rigorous inspection during the activity. For any malicious acts conducted during the period, including malicious transaction manipulations, illegal bulk registration of accounts, self-dealing, etc., the platform will cancel the qualification of the participants.
7. KuCoin reserves the right of final interpretation to this campaign.
---
Find The Next Crypto Gem On KuCoin!