Gate.io has released AppV3.0.4.beta for Android mobile phones. This version adds liquidity mining, optimization of copy trading, spot contract and other functions with one-click. Gate.io will continue to provide users with more professional trading and related experience and high quality services. Please look forward to it.


Download link:

https://www.gate.tv/mobileapp

(users can download the overlay installation upgrade or upgrade through the left tabs of the app)


Note: if users who upgrade through the old version encounter flash back problems, please delete the old version and reinstall it.
App updates:
I. Liquidity Mining
1. Add liquidity mining of Finance and other functions to facilitate users to participate in liquidity mining.
2. With the list function of the liquidity mining market, users can view market information and sort according to total liquidity, accumulated bonus pool, today's APR, 7-Day annualized yield.
3. The liquidity market supports users to filter the market filter of "my mining pools".
4. The liquidity market supports users to utilize the function of searching markets.
5. Add a liquidity mining account to the financial account of Wallet. You can view the participating liquidity market and perform the functions of addition, redemption and bill viewing for markets.
6. Users can view the current liquidity market overview, historical revenue and other information in the liquidity mining details page.
7. Users can add market liquidity to the liquidity market in proportion with the liquidity mining addition function.
8. Users can redeem the added liquidity market with the liquidity mining redemption function.
9. Users can view and add redemption records and reward distribution records and support filtering according to time and market with the bill record function.
10. The reward extraction function supports users to extract rewards through manual extraction and automatic distribution.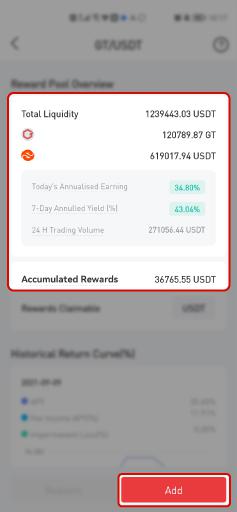 II. Flash Swap
1. Add flash swap, preview and other functions.
2. Flash swap trading history.
III. Quantization
1. Add close position recording function.
2. Transfer record UI and interaction optimization.
3. CTA and configuration strategy UI and interaction optimization.
4. Add strategy sharing function.
IV. Spot and Contracts
1. Add the switching function of each gear and cumulative mode for spot & contract depth and quantity.
2. Contract trading - interactive optimization of close position.
3. The switching from high magnification to low magnification, margin reduction prompt and logic optimization.
4. Add optional function in contract K line page.
V. Others
1. Optimize rise and fall logic in preference setting
2. Speed measurement function and UI optimization
3. Add a market tracker.
4. Update big data section.
5. Data analysis section is changed to a big data view.
6. Adapt security items.
7. Fix known problems.



Gate.io is a Cryptocurrency Trading Platform Since 2013


Top ranking, Trustworthy, Transparent


Sign up to enter the crypto gateway and get 40% commission from referrals


Download iOS/Android App right now.


Follow us on social media


Twitter: https://twitter.com/gate_io


Telegram:https://t.me/gateio


Instagram:https://www.instagram.com/gateioglobal


Medium:https://medium.com/@gateio


Gate.io Team


September 14, 2021